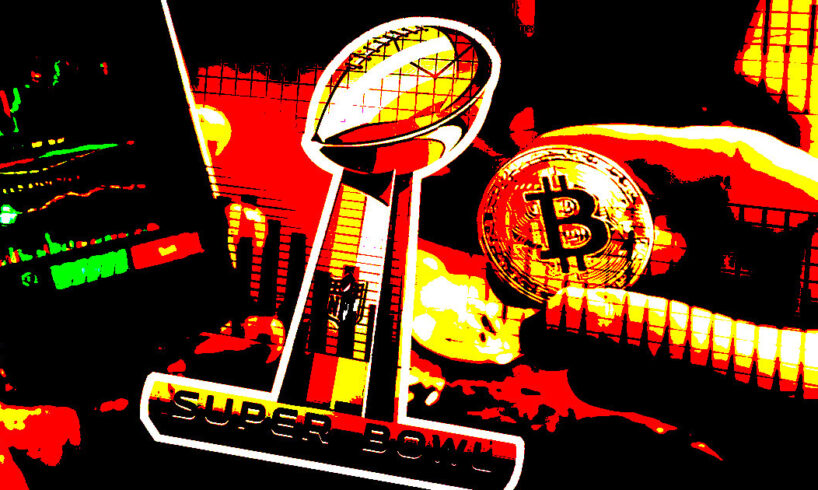 [ad_1]

Crypto firms failed to draw in a rush of new retail investors from their Super Bowl advertising campaign.
It was the first time crypto firms ran ads during the biggest sporting event on U.S. television. While it was hailed as a milestone moment for the industry at the time, two months on, it's now being branded a miss.
According to experts, macroeconomic circumstances were a factor. More specifically, the persistent narrative that cryptocurrency is risky remains the general consensus.
"Crypto Bowl" misses the mark
The 2022 Super Bowl viewing figures were up 16% from last year, averaging 112 million across all platforms. This makes Super Bowl LVI the most-watched program in the previous two years.
Due to high viewership and broad demographic reach, Super Bowl advertising has become a cultural phenomenon in itself. Marketers see it as an opportunity to produce cinematic quality masterpieces to achieve their marketing goals. So much so that it's notoriously expensive to run a Super Bowl ad. A 30-second slot in 2022 costs upwards of $6.5 million.
Crypto firms saw the 2022 Super Bowl as an opportunity to boost adoption and spread brand awareness. Firms pulled out all the stops to stand out from rivals. But most of all, to drive the message that crypto is ready for mainstream acceptance and recognition.
This included a host of celebrity endorsements, such as LeBron James pitching in for Crypto.com. And the now-infamous bouncing Coinbase QR code, which split opinions on artistic merit but was still enough to crash servers due to the sheer number of people trying to claim the free Bitcoin on offer.
However, now the dust has settled, experts say the "Crypto Bowl" failed to have the desired impact.
Now is not the time for risky investments
Looking at trading volume, Noelle Acheson, Head of Market Insights at Genesis Trading, said the "Crypto Bowl" campaign did not bring "a massive influx" of investors as hoped. This, he attributes to "uncertainty in the markets."
"We did not see a massive influx of retail investors into crypto after the Super Bowl ad.
Volumes are low because of a huge amount of uncertainty in the markets."
With the Russian-Ukraine war picking up where the health crisis left off, people remain concerned about how things will pan out. That's not forgetting the threat of spiking inflation and the associated cost of living crisis spreading across the globe.
The Head of Cryptocurrency at trading firm Cumberland, Chris Zuehlke, spoke of the interplay between two opposing groups – those that see Bitcoin as risk-on and those that see it as risk-off. Zuehlke added that the price ranging/relative flat trading seen over recent times is the result of the risk-on camp having the upper hand.
"That push and that pull between those two camps, I think, is what defined that range we have been sitting in the past couple of months."
In all likelihood, strong retail sentiment would tip this balance in favor of the risk-off camp. The fact that trading remains relatively flat would support Acheson's view that uncertainty remains the dominant feeling among investors.
Get an Edge on the Crypto Market 👇
Become a member of CryptoSlate Edge and access our exclusive Discord community, more exclusive content and analysis.
On-chain analysis
Price snapshots
More context
Join now for $19/month Explore all benefits

[ad_2]

Source