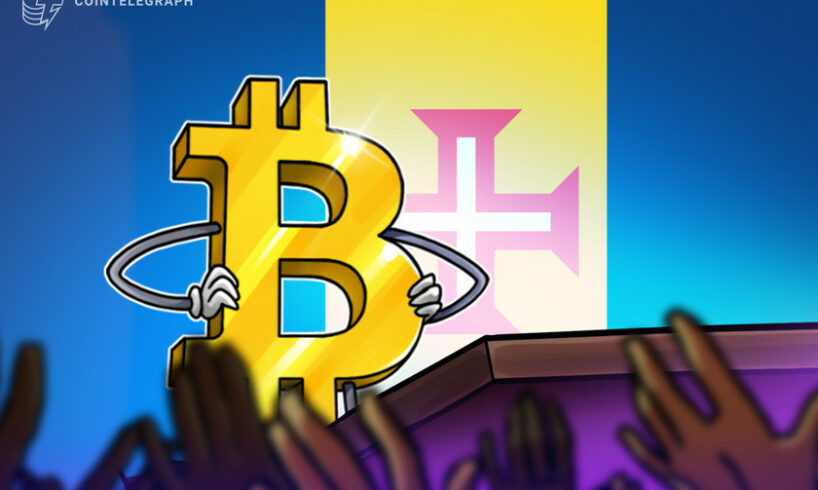 [ad_1]
The tiny Portuguese archipelago of Madeira has "adopted" Bitcoin (BTC) — but what does that mean? The announcement, made during the Bitcoin 2022 conference in Miami, has spurned confusion and misinformation.
Miguel Albuquerque, the president of the Regional Government of Madeira, hopped on the stage in April to announce: "I believe in the future, and I believe in Bitcoin." He also said he would work to "create in Madeira a fantastic environment for Bitcoin." However, the details remained unclear.
Cointelegraph spoke to André Loja, a Madeiran entrepreneur who spearheaded the plan to bring BTC to the archipelago in the Atlantic ocean, to find out how Bitcoin is shaping the islands' development.
Madeira exploded onto the Bitcoin world map on April 7 when JAN3 CEO Samson Mow proudly announced that it "will be adopting Bitcoin."
Upon the announcement, news outlets around the world reported that Madeira had adopted Bitcoin as legal tender; however, this was not the case. Loja explained to Cointelegraph that prior to the announcement, he would have preferred to use the phrase "Madeira is embracing Bitcoin."
"We embrace it, we support it. We are not 'adopting' Bitcoin because adopting looks like we were making it legal tender when it's already de facto legal."
Indeed, in Madeira and across Portugal — which is around 620 miles to the northeast — there is zero tax on Bitcoin capital gains. That means any time one of Madeira's residents disposes of, spends or uses BTC, it does not need to be declared to tax authorities.
Loja orange-pilled the president of Madeira just a few weeks prior to the conference, sharing his vision for Bitcoin as not only a means to attract foreign investment but to "protect my island from the fiat system."
By happenstance, Albuquerque came to visit Loja's coworking space — one of the few places to accept BTC in Madeira — and Loja jumped at the opportunity to share his passion for Bitcoin. Madeira was kneecapped by the COVID-19 pandemic as critical tourism revenue fell off a cliff. Loja, therefore, presented a Bitcoin future to the president as a means to diversify and restructure Madeira's economy, among other advantages.
Albuquerque was reportedly open to the idea, so Loja quickly sought the help of Bitcoiners around the world, including Daniel Prince, a renowned Bitcoin podcaster; Jeff Booth, author of The Price of Tomorrow; and even Michael Saylor, CEO of MicroStrategy.
Within weeks, the Bitcoiner all-star team had contacted the organizers of Bitcoin 2022 to organize the president's appearance on stage. Ultimately, having the head of state of an autonomous region endorse Bitcoin was an opportunity too big to miss.
Upon landing in Miami, Loja and Albuquerque were invited to Saylor's flashy Miami villa, "with the yachts and everything," Loja joked. While Loja had already orange-pilled the president, the conversation with Saylor was on another level:
"Michael Saylor sat down with President Albuquerque, and well, […] it was more like he sat down with his head!"
Saylor told Albuquerque that "You need to focus on Bitcoin. Everything else is garbage." A conversation the president is unlikely to forget, the seminar was sufficient preparation for him to step on stage in front of 25,000 Bitcoin enthusiasts.
Loja explained that the announcement that Madeira is adopting Bitcoin would "kickstart an intention" for Madeira to become an island in which Bitcoin prospers alongside the people. For Loja, who has already translated popular Bitcoin-related books into Portuguese, "It starts with education — the most important thing."
Loja (far right), President Albuquerque (center with book) and Knut Svanholm (far left) in Madeira in May 2022. Source: Loja
Indeed, Loja cut his teeth during the bear market of 2018. A passionate educator, Loja works closely with other educators in the space, such as Knut Svanholm, author of Bitcoin: Everything Divided by 21 Million, to teach the principles of sound money:
"I have a lot of ideas, from kindergarten to schools to adult workshops — and to bring people from outside the island. The association will have the best people as consultants."
To this end, Loja is founding the Sound Money Foundation, a Bitcoin education center in Madeira. The center has support from Mow and Booth, among others, and seeks to help locals to better understand cryptocurrency from a young age.
Accompanying the education drive and the focus on improving "financial literacy," Loja's hometown also lures Bitcoin companies with attractive fiscal incentives. At the International Business Center, companies pay just 5% business tax, a highly competitive rate. Portugal was already a budding hub for individual Bitcoiners, but companies can now reap the benefits.
Related: Bitcoin, Bukele and a bevy of central bankers meet in El Salvador
Further down the road, Loja plans for the autonomous government of Madeira to mine Bitcoin with leftover renewable energy — as the island has abundant wind and sunlight — and even utilize "a multisignature wallet for the government to work with Bitcoin financially."
Madeira's International Business Center. Source: IBC
As a result, the government would take full custody of the Bitcoin it mines by taking control of the private keys. Loja highlighted that the electrical power grid is a standalone "public company," so any Bitcoin mined by the grid would go into government multisig wallets.
In essence, Madeira's approach to Bitcoin goes above and beyond the lauded legal tender status. From public sector BTC mining and education to state-run multisig wallets and having Saylor on speed dial, the island is slowly steering toward a Bitcoin future.
Unsurprisingly, Loja's holistic approach to the island "embracing" Bitcoin has a low time preference. 
[ad_2]

Source