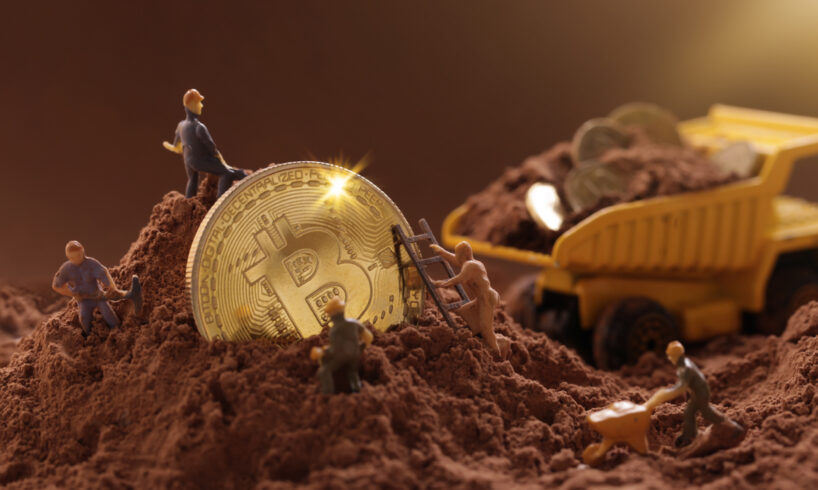 [ad_1]

On July 21, 2022, at 2:14 p.m. (ET) at block height 745,920, Bitcoin's mining difficulty dropped by 5.01% outpacing the last two epoch changes. The latest downward shift makes it 5% easier to find blocks than it was during the past two weeks, and roughly 8.77% easier since June 22.
It's Now 11.39% Easier to Find a Bitcoin Block Since the Difficulty's All-Time High on May 10
Bitcoin miners caught a break this week as the difficulty adjustment algorithm (DAA) adjusted downward for the third week in a row. The network's difficulty is essentially measured by how difficult it is to find the correct hash for every minted block subsidy.
The difficulty epoch is assessed every 2,016 blocks, and if the time it takes to mine those blocks is too fast, difficulty increases, and if it's too slow, the difficulty decreases. The last difficulty increase took place on June 8, 2022, at block height 739,872, as it rose 1.29% higher than the two weeks prior.
Since the mining difficulty's all-time high on May 10, the difficulty has dropped 11.39%.
During the four weeks before the most recent DAA shift, the network recorded two reductions. The first one occurred on June 22, at block height 741,888, as it dropped by 2.35% that day.
The second difficulty change that followed occurred on July 6, at block height 743,904. That particular drop was around 1.41% and the difficulty dropped to 29.15 trillion. Today, after block height 745,920, the difficulty is now 27.69 trillion, a parameter not seen since March 17, 2022.
At the time of writing, it is 11.39% easier to find a bitcoin block than it was when the difficulty reached an all-time high on May 10, at block height 735,840. The record height was 31.25 trillion and so far, 3.56 trillion has been erased from the network's difficulty.
During the last two weeks, prior to the most recent difficulty adjustment, BTC's hashrate saw an average of around 197.4 exahash per second (EH/s). In the last 30 days, Foundry USA captured the most block subsidies as it found 926 blocks out of the 4,165 mined last month.
Foundry's hashrate during the last month was around 22.23% of the entire global network. The mining operation was followed by Antpool, which managed to find 638 block rewards, and F2pool discovered 606 blocks.
Binance Pool found 505 blocks and during the past 30 days, Poolin captured 434 block rewards. There were 13 known bitcoin mining operations that found 4,108 blocks during the one-month span, while unknown hashrate, otherwise known as stealth miners, managed to find 57 blocks.
Tags in this story
13 known pools, 200 EH/s, Antpool, Bitcoin Miners, Bitcoin mining, Bitcoin Mining Operations, Bitcoin's hashrate, BTC hashpower, BTC Hashrate, BTC Mining, BTC network, DAA, difficulty adjustment algorithm, difficulty change, Exahash, F2Pool, Foundry USA, mining bitcoin, Mining BTC, Mining Difficulty, Poolin, Unknown Miners
What do you think about the recent mining difficulty drop? Let us know your thoughts about this subject in the comments section below.
Jamie Redman
Image Credits: Shutterstock, Pixabay, Wiki Commons
Disclaimer: This article is for informational purposes only. It is not a direct offer or solicitation of an offer to buy or sell, or a recommendation or endorsement of any products, services, or companies. Bitcoin.com does not provide investment, tax, legal, or accounting advice. Neither the company nor the author is responsible, directly or indirectly, for any damage or loss caused or alleged to be caused by or in connection with the use of or reliance on any content, goods or services mentioned in this article.
More Popular NewsIn Case You Missed It
[ad_2]

Source