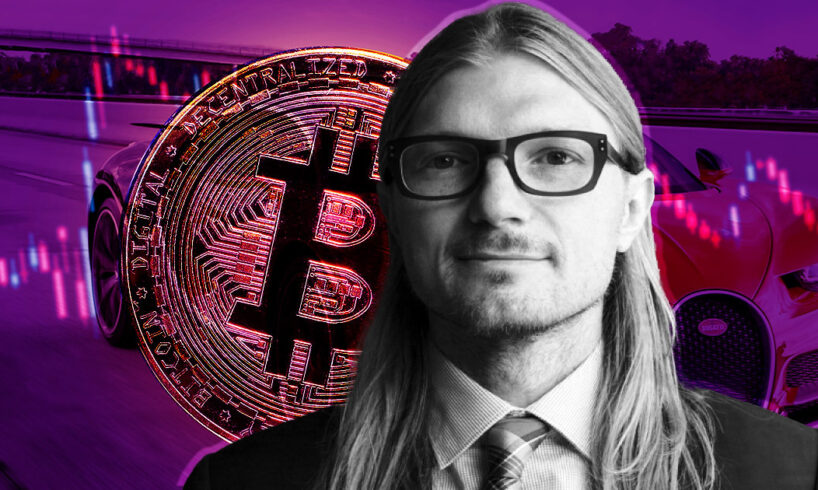 [ad_1]

San Francisco-based exchange company Kraken's CEO Jesse Powell recently told Bloomberg that he was still bullish on Bitcoin and hoped to buy one Bugatti for one Bitcoin by the end of 2022.
Powell joined Bloomberg Exclusive, where he was reminded of his forecasts from last year. When Powell was hosted by the same show in 2021 where he said:
"Probably by the end of the year [2021] it'll be one Bitcoin per Lambo, and probably by the end of next year [2022] it'll be one Bitcoin per Bugatti."
At the time, Bitcoin was traded for around $48,000. He didn't step back when Powell was reminded of his forecasts on August 26. While saying he didn't expect the winter market to hit so hard, he still said he'd expect to buy one Bugatti with one Bitcoin by the end of 2022.
Bitcoin is being traded at nearly $24,000 at the time of press, and the luxury car brand Bugatti's models vary between $1.9 million and $3.3 million.
Powell continued by saying that he's still very bullish on Bitcoin:
"I bought in Bitcoin again at 18,000, I'm happy to ride it back up. I'm still bullish on the long run, the fundamentals keep improving. I'd never bet against Bitcoin."
Kraken
As soon as the winter conditions showed themselves, most major crypto exchanges laid off some of their staff. Kraken didn't participate in the layoff trend, suggesting that the company is not experiencing any financial difficulty supporting its 3,200-person staff.
However, the exchange has been having other problems. On June 15, 2022, the Kraken CEO made the headlines for allegedly lashing out at employees, claiming that they were ill-fitted to the company culture. Taking a deep dive into the topic, the New York Times reported that Powell created a toxic environment by "starting a culture war" within Kraken.
One month later, in July 2022, the U.S. Treasury Department opened an investigation on Kraken to discover if it violated the U.S. sanctions by allowing users from sanctioned regions to trade crypto assets. The U.S. had implied sanctions on Iran, North Korea, Cuba, Syria, and certain parts of Ukraine. When the Treasury opened the investigation, it was known that Kraken had allowed users from Iran, Syria, and Cuba to trade tokens.
Bullish on crypto
Even though they don't expect Bitcoin to see the price of Bugatti, many crypto executives are also bullish on Bitcoin and believe it will soar after the winter conditions are over.
Bloomberg's senior commodity strategist Mike McGlone said he expected Bitcoin to hit $100,000 by 2025. Analyzing the market on July 14, McGlone mentioned he didn't know when Bitcoin would find its floor, but it was inevitable for it to soar once it did.
A few days later, Galaxy Digital CEO Michael Novogratz also discussed his Bitcoin forecast, saying it would see $500,000 by 2027. He analyzed the adoption rates and the numbers from the bear market to conclude that the winter market was just a "bump in the road in adoption, not a U-turn."
Get an Edge on the Crypto Market 👇
Become a member of CryptoSlate Edge and access our exclusive Discord community, more exclusive content and analysis.
On-chain analysis
Price snapshots
More context
Join now for $19/month Explore all benefits

[ad_2]

Source