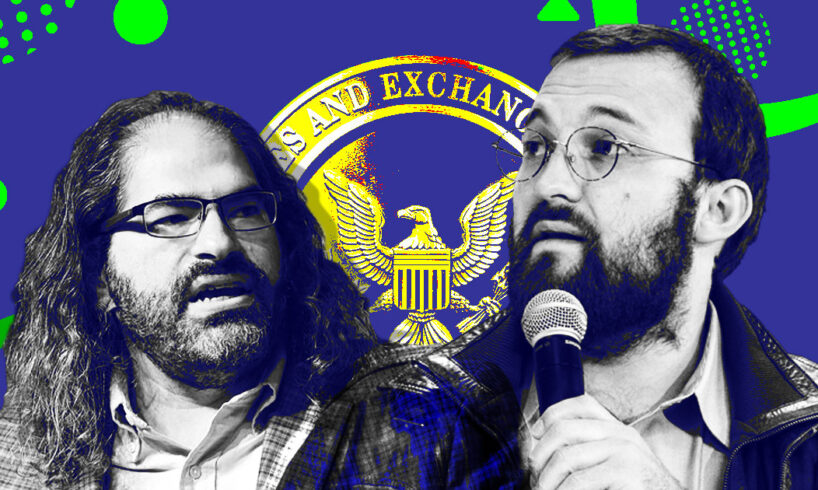 [ad_1]

A Twitter spat erupted as Input Output CEO Charles Hoskinson commented over alleged SEC corruption, deriding the claim that the securities regulator singled out Ripple and the XRP token.
John E. Deaton started the thread, asserting the lack of regulatory clarity on cryptocurrencies is an own goal for the U.S. This train of thought moved onto the lack of consumer protections, such as proof of 1-to-1 exchange reserves, as a result.
In the wake of the FTX collapse, several exchanges are voluntarily compiling proof of reserves to demonstrate solvency. But it remains a voluntary move and, as such, lacks standardization between exchanges and verification from accredited sources.
Deaton then called out Sam Bankman-Fried's close relationship with the securities regulator, which he deemed non-sensical given that Coinbase and Kraken are U.S. licensed. Still, neither seemingly have much sway with the SEC.
Ask yourself why was @GaryGensler meeting with SBF and NOT @brian_armstrong or @jespow? Even giving Gensler the benefit of the doubt, why SBF and not the largest exchange in the U.S. – which has a broker dealer license?
— John E Deaton (@JohnEDeaton1) November 13, 2022
Deaton is a prominent figure in the SEC vs. Ripple litigation case, representing 75,000 XRP holders in the amicus curiae, or friends of the court, brief, which argues an incorrect application of the Howey Test, determining XRP as a security, has led to significant investor harm.
Based on current understandings and interpretations, which are being challenged, only Bitcoin and Ethereum are considered commodities, not securities. Meaning, both fall under the regulatory supervision of the Commodity Futures Trading Commission (CFTC) and not the SEC.
Some say the CFTC is more open and accommodating towards responsible crypto innovation in the U.S. For example, Jeremy Liabo, an Attorney at Chicago law firm Ropes & Gray, said:
"The CFTC is a friendly regulator in that it is open to innovation."
Conspiracy talk damages closer industry ties, says Hoskinson
Responding to the thread, Hoskinson dismissed any notion of a conspiracy against the crypto industry, saying he was given the platform at a Congressional Committee hearing in June and had regular contact with regulators.
The Cardano founder added that insinuations that Ethereum developers ConsenSys conspired with the SEC to "go after Ripple" run contrary to establishing closer ties between the industry and regulators.
I literally spoke before congress this year. I've engaged with regulators extensively. What doesn't help is making an entire community believe that Joe Lubin bribed the SEC to go after Ripple. This madness damages any hope of a healthy relationship
— Charles Hoskinson (@IOHK_Charles) November 14, 2022
Deaton said he does not blame ConsenSys CEO Joseph Lubin for "seeking clarity or even a regulatory free pass." But his argument centers on alleged foul play related to former SEC Director William Hinman.
Hinman has links to the Ethereum Foundation via the law firm Simpson Thacher. Recently, crypto YouTuber Ben Armstrong called Hinman out for accepting bribes in greenlighting Ethereum as a commodity.
Ripple CTO wades in
Dismissing Deaton's argument, Hoskinson said Ethereum's status as a commodity has no bearing on Ripple's legal battle with the regulator. He added that following Deaton's thought process on regulatory corruption still ends with XRP as a security.
A free pass for ethereum has zero material impact on the ripple litigation. Especially given that your argument is that it would be a security, but they were bribed to not make it one. So what both ethereum and xrp are securities? Jesus Christ man.
— Charles Hoskinson (@IOHK_Charles) November 14, 2022
Ripple CTO Joel Schwartz clapped back at Hoskinson, stating Ethereum's "free pass" with the SEC has undoubtedly influenced the ongoing Ripple court case.
Do you really believe that the Ethereum free pass has zero material impact on the Ripple litigation? The SEC could have adopted the position that XRP and ETH are both securitires. The SEC could have adopted the position that neither XRP nor ETH are securities. 1/2
— David "JoelKatz" Schwartz (@JoelKatz) November 14, 2022
He explained that classifying XRP as a security while giving Ethereum the nod means applying "a level of precision" to come to that conclusion. Schwartz then implied Ripple's willingness to fight the SEC is an act of uncovering those minute details to obtain regulatory clarity.
"To adopt that as a rational position, you have to think particular things matter in particular ways."
Get an Edge on the Crypto Market 👇
Become a member of CryptoSlate Edge and access our exclusive Discord community, more exclusive content and analysis.
On-chain analysis
Price snapshots
More context
Join now for $19/month Explore all benefits

[ad_2]

Source