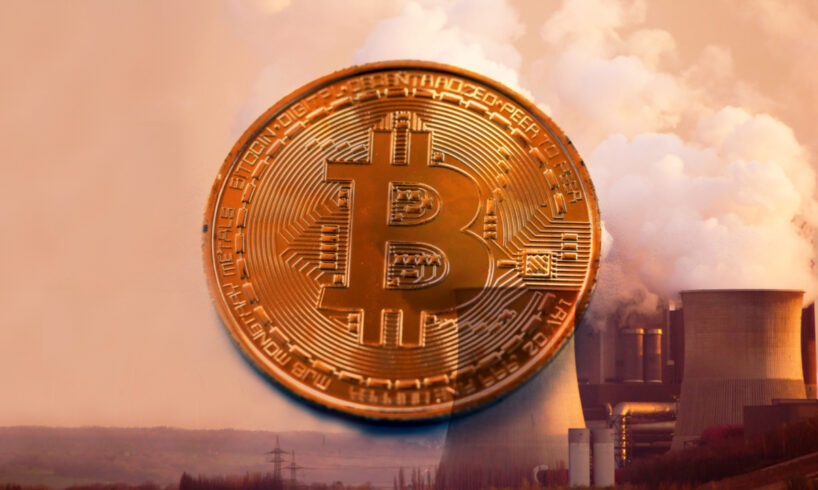 [ad_1]

Contrary to some expectations, Beijing's crackdown on the crypto mining industry has increased Bitcoin's carbon emissions, researchers have alleged. Leaving China, miners also left behind its eco-friendly hydropower and are increasingly relying on energy generated by fossil fuels, they claim.
Bitcoin Mining Allegedly Less Green Since Miners' Exodus From China
Cryptocurrency mining has become a dirtier process after the Chinese government effectively prohibited bitcoin extraction in the People's Republic, according to research published in the Joule journal. The share of renewable energy used to power mining operations has fallen from almost 42% to around 25% last August, the study insists.
It has been estimated that Bitcoin produces more than 65 megatons of carbon dioxide annually. The amount exceeds the total carbon emissions of a country like Greece, for example, which in 2019 registered less than 57 megatons of CO2. One of the authors, Alex de Vries, told the BBC:
We see the network becoming less green than ever before.
Speaking to Bloomberg, he elaborated that the relocation of mining companies to other countries such as the United States and Kazakhstan has led to a reduction in the use of renewable energy sources. This made bitcoin production less friendly to the environment as it resulted in the increase of its carbon intensity by about 17%.
De Vries is the founder of Digiconomist.net, a platform presenting itself as "dedicated to exposing the unintended consequences of digital trends" and publishing the Bitcoin Electricity Consumption Index. He is a researcher at the School of Business and Economics at the Vrije Universiteit, Amsterdam, and also an employee of the Dutch central bank. His estimates about Bitcoin's energy usage have been challenged by crypto media and members of the community but quoted by mainstream publications.
Migration to the U.S. has expanded the use of fossil fuels, especially natural gas, as a relatively small portion of the nation's electrical energy is sourced from renewables, the latest report co-authored by De Vries claims. And moving to Kazakhstan often leads to utilizing electricity from power stations burning what's known as "hard coal," polluting more than the Chinese plants that miners worked with outside the wet season.
China banned crypto-related activities such as trading back in 2017 but the government did not interfere with mining until last spring. In May 2021, the State Council decided to clamp down on the industry following President Xi Jinping's pledge to achieve carbon neutrality in the next four decades. The crackdown has since spread to provinces like Sichuan where miners had access to hydropower.
Industry groups had been more optimistic about the use of renewables in the minting of digital currencies, BBC noted in its article. It quotes an older estimate made by the Bitcoin Mining Council, according to which the "global mining industry's sustainable electricity mix had grown to approximately 58.5%."
Meanwhile, in Europe, nations such as Sweden and regulators like the European Securities and Markets Authority (ESMA) have more recently voiced concerns over the growing use of renewable energy for bitcoin mining. They have issued calls for an EU-wide ban on energy-intensive mining methods.
On Friday, news came out that the European Parliament canceled a scheduled vote on the bloc's new crypto regulations after a proposal to prohibit proof-of-work mining found its way to the draft Markets in Crypto Assets (MiCA) framework and sparked negative reactions from the industry.
Tags in this story
Bitcoin, Carbon, carbon footprint, China, Crypto, crypto miners, crypto mining, Cryptocurrencies, Cryptocurrency, Electricity, emissions, Energy, EU, Europe, fossil fuels, Kazakhstan, Migration, Miners, mining, natural gas, power, relocation, renewable, renewables, Research, study, Sweden, U.S.
What are your thoughts on the findings of the bitcoin mining study? Let us know in the comments section below.
Lubomir Tassev
Image Credits: Shutterstock, Pixabay, Wiki Commons
Disclaimer: This article is for informational purposes only. It is not a direct offer or solicitation of an offer to buy or sell, or a recommendation or endorsement of any products, services, or companies. Bitcoin.com does not provide investment, tax, legal, or accounting advice. Neither the company nor the author is responsible, directly or indirectly, for any damage or loss caused or alleged to be caused by or in connection with the use of or reliance on any content, goods or services mentioned in this article.
More Popular NewsIn Case You Missed It
[ad_2]

Source