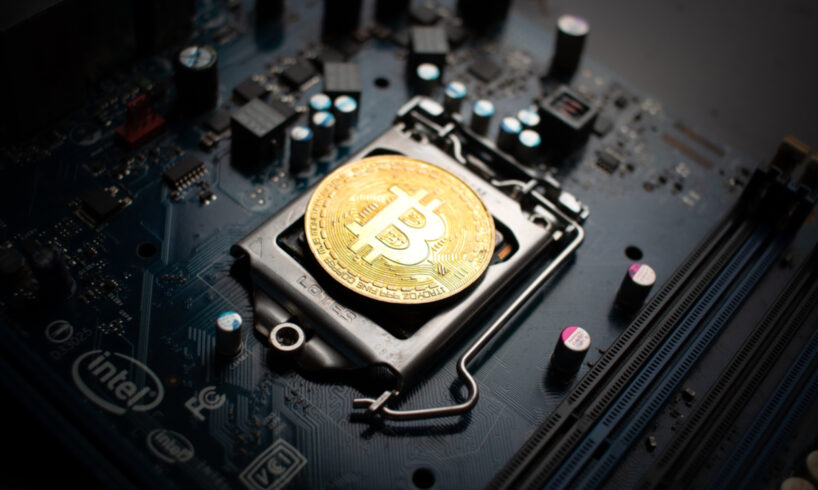 [ad_1]

On March 7, the publicly-listed mining firm Hive Blockchain Technologies announced the company inked a deal with Intel to purchase new ASIC mining chips. Additionally, Hive has formed an agreement with an original design manufacturer (ODM) and a non-binding letter of intent with Compute North. Hive said the company plans to deploy 100 MW of mining capacity to Compute North's renewable energy facilities in Texas.
Hive to Purchase ASIC Chips From Intel, Aims to Deploy 100 MW in Texas
The blockchain company and mining operation Hive (TSX.V: HIVE) (Nasdaq: HIVE) has revealed it has entered a supply agreement with Intel Corporation (Nasdaq: INTC). Hive will obtain Intel's new ASIC mining chips that will be leveraged in custom-built equipment made for the company. The blockchain firm says it has a manufacturing agreement with an ODM that specializes in "electronics manufacturing."
"Hive's engineering team will draw on its expertise in hardware and software implementation and will work closely with Intel and the ODM partner on the systems integration," Hive's announcement notes. "These miners are expected to be delivered over a period of one year starting in the second half of calendar 2022, the effect of which, if they are all installed, would be an expected increase of up to 95% in our aggregate Bitcoin mining hashrate from 1.9 exahash per second."
In addition to the deal with Intel, Hive detailed it closed another agreement with Compute North in order to deploy a 100 MW mining center in Texas. Frank Holmes, Hive's executive chairman, said the Compute North team "shares the same commitment to using renewable energy that Hive has adhered to since its listing as the world's first publicly traded crypto-miner."
Mining Company Holds 2,374 Bitcoin, Hive Joins a Slew of Firms Acquiring Intel Chips
Hive says that further details about the 100 MW facility will be announced in the future. Last year, Hive purchased a great deal of mining rigs from Canaan and in mid-October it expanded its data center campus in New Brunswick, Canada, with 40 MW of capacity. The same month, Hive acquired another 6,500 mining rigs from Canaan. Hive holds a balance of 2,374 bitcoin (BTC) as of February 28, 2022, and the company produced 244.4 BTC last month.
Moreover, Hive joins firms like Griid, Argo Blockchain, and Jack Dorsey's Block (formerly Square) that have plans to acquire Intel's ASIC chips. Intel revealed its new mining chips in mid-February and claimed the circuits will deliver 1,000x better performance than current competitors. Later, at the International Solid-State Circuits Conference (ISSCC) last month, Intel gave the event attendees a sneak peak at the 'Bonanza Mine BMZ1' blockchain accelerator mining chip and the 'Bonanza Mine BMZ2' as well.
Tags in this story
100 MW, 100 MW facility, 2347 Bitcoin, 2374 Bitcoin, Argo Blockchain, ASIC mining chips, Bitcoin, Bitcoin (BTC), Bitcoin mining, Block Inc., BMZ1, BMZ2, Bonanza Mine, Bonanza Mine chip, BTC Mining, Canaan, compute north, Frank Holmes, Griid, hive, Hive Intel, Intel, ISSCC, Semiconductor
What do you think about Hive's plans to purchase Intel ASIC chips and the 100 MW facility in Texas with Compute North? Let us know what you think about this subject in the comments section below.
Jamie Redman
Image Credits: Shutterstock, Pixabay, Wiki Commons
Disclaimer: This article is for informational purposes only. It is not a direct offer or solicitation of an offer to buy or sell, or a recommendation or endorsement of any products, services, or companies. Bitcoin.com does not provide investment, tax, legal, or accounting advice. Neither the company nor the author is responsible, directly or indirectly, for any damage or loss caused or alleged to be caused by or in connection with the use of or reliance on any content, goods or services mentioned in this article.
More Popular NewsIn Case You Missed It
[ad_2]

Source