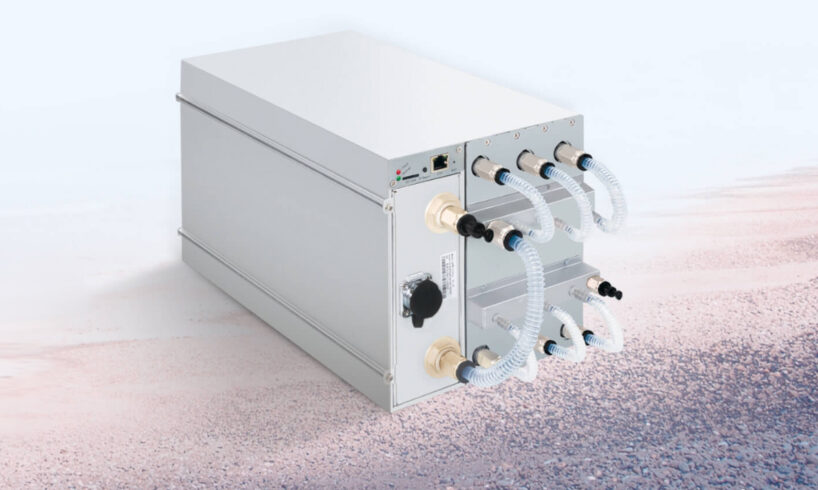 [ad_1]

Leading ASIC mining device manufacturer Bitmain has revealed a new bitcoin miner that's even faster than the company's last machine, which boasts 198 terahash per second (TH/s). The latest model, called the Antminer S19 XP Hyd., is also a liquid-cooled ASIC mining device that claims to produce 255 TH/s at 20.8 joules per terahash (J/T).
255 TH/s and 20.8 J/T: Bitmain Launches the Most Efficient Mining Rig to Date
The application-specific integrated circuit (ASIC) manufacturer Bitmain is turning heads with its latest product. The Antminer S19 XP Hyd. is a new bitcoin miner that's even more powerful than the Antminer S19 Pro+ Hyd. machine Bitmain revealed at the end of January.
The Antminer S19 XP Hyd. claims to produce a whopping 255 TH/s of computing power, which is a lot faster than today's top machines producing 100 to 112 TH/s. The new ASIC is also much faster than the S19 Pro+ Hyd., which boasts 198 TH/s. While that specific machine won't be available to the public until May 2022, the latest 255 TH/s machines won't be delivered until January through March, 2023.
At the time of writing, both machines are available for purchase on Bitmain's website. Specifications show the hydro-cooling miner will mine BTC, BCH, and BSV, and each unit pulls 5,304 watts off the wall. A single S19 XP Hyd. will cost $19,890 and the company allows bulk orders as well.
Meanwhile the S19 Pro+ Hyd. is also available for $15,048 per unit, but the XP is a bit more efficient in terms of joules per terahash. The hydro-cooling Pro+ has an efficiency rating of 27.5 J/T, while the XP units offer 20.8 J/T.
With both machines unavailable to the public for the time being, the Microbt Whatsminer M30S++ and the Bitmain Antminer S19 Pro are still the top machines today. Bitmain currently doesn't have any S19 Pros (110 TH/s) available, but the company is selling S19j Pro units with 104 TH/s for $9,984 per mining rig.
At 110 to 112 TH/s the two aforementioned machines will produce just above $10 per day in BTC profits with electricity costs at $0.12 per kilowatt-hour (kWh). Estimates show, with today's current BTC price, $0.12 per kWh, and an S19 Pro+ Hyd. unit, a miner could get around $19.89 per day in BTC profits.
The ASIC mining device manufacturer is also selling S19 XP units with 140 TH/s for $11,620 per rig. The company seems to have ASIC stock ready to go, as most of Bitmain's mining rigs were sold out last month. Bitmain's website notes that the hydro-cooling miners are best used in Bitmain's custom containers. The firm is selling container units called the Antspace HK3 for $110,000 per container, which holds 210 mining rigs and 1 megawatt (MW) of power.
Tags in this story
198 Terahash, 198 TH/s, 210 units, 255 Terahash, Antminer, Antminer S19 Pro+ Hyd., Antspace HK3, Bitcoin, Bitcoin (BTC), Bitcoin Miners, Bitmain, BTC, BTC miners, BTC Mining Rigs, hydro, Hydro Powered, liquid cooling, Mining Device, Mining Machine, Mining Rig, mining rig manufacturer, S19 XP Hyd., Specifications, XP machines
What do you think about the newly introduced Bitmain Antminer S19 XP Hyd.? Let us know what you think about this mining machine in the comments section below.
Jamie Redman
Image Credits: Shutterstock, Pixabay, Wiki Commons
Disclaimer: This article is for informational purposes only. It is not a direct offer or solicitation of an offer to buy or sell, or a recommendation or endorsement of any products, services, or companies. Bitcoin.com does not provide investment, tax, legal, or accounting advice. Neither the company nor the author is responsible, directly or indirectly, for any damage or loss caused or alleged to be caused by or in connection with the use of or reliance on any content, goods or services mentioned in this article.
More Popular NewsIn Case You Missed It
[ad_2]

Source