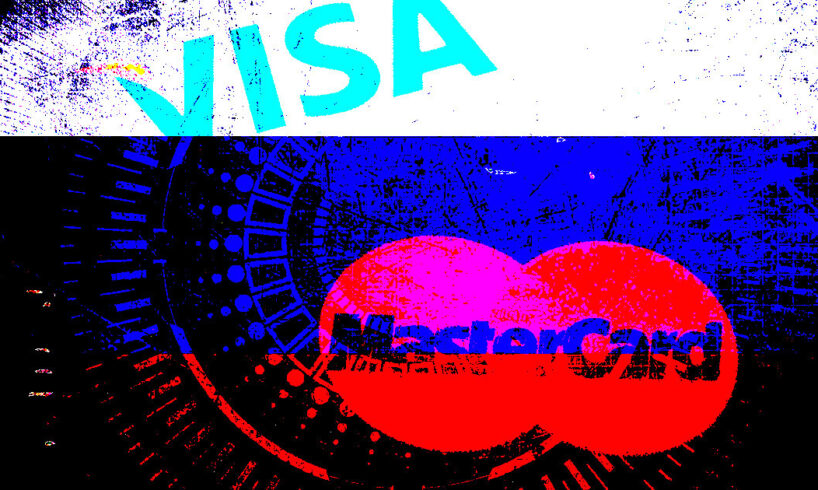 [ad_1]

Mastercard and Visa have announced that they will no longer operate inside Russia. With Russia already cut off from the SWIFT network and PayPal, the impact of exclusive reliance on centralised financial services is increasingly evident.
Guy from Coin Bureau noted on Twitter:
"Now that Visa & Mastercard have suspended services in Russia, we will get a glimpse of how dependent society is on these centralised payment services."
Centralised payment services
The move, called for by President Zelensky, may cost Mastercard up to $756 million as transactions involving Russia accounted for 4% of their net revenue in 2021. It leaves Russians without three of the most critical services to move money.
Removing centralised payment solutions to act as de facto sanctions is extremely powerful. However, whilst the moves will directly impede Russia's internationally condemned war effort, they will also impact every Russian citizen who is opposed to the war and trying to live their life.
Reports of bank runs, issues paying salaries and disruption to day to day work are impacting civilians in all countries involved in the war. Reports suggest over one million tech professionals are working out of Ukraine, Russia and Belarus. People familiar with the matter say that many are operating in Web3.
The projects that already have crypto payments set up for workers will be unaffected by the closure of centralised services. However, employees must still buy groceries and pay rent, activities which may not be possible with crypto in their location.
Whilst it may be tempting for those against the war in Ukraine to support these financial sanctions, it raises a poignant question; if your country waged an unjust war, would you expect to be shut off from PayPal, online banking and your debit or credit cards? How would you feed your family?
Decentralised payment services
Web3 offers many potential payment solutions through decentralisation. These solutions can allow ordinary civilians to have autonomy over their wealth. Companies such as Block (formerly Square) are attempting to lead the way in decentralised payment solutions. In November, they announced a decentralised exchange, tbDEX, with further integration into other Block apps such as CashApp to come.
We are still a ways away from cryptocurrency being a mainstream method of paying for goods and services. However, many civilians affected by conflict will be reading up on crypto in the coming months as they seek ways to transact free from centralised control.
There is a flip side to this argument; if Russia had a fully decentralised payment system in place, then the rest of the world may struggle to administer sanctions in the same manner. However, there would not be a lack of other available sanctions that opposing nations could issue.
What is next for Mastercard and Visa?
Earlier this year, Canadian venture capitalist, Chamath Palihapitiya predicted Mastercard and Visa are his tips for the biggest losers of 2022. He cited the rise of Web3's decentralised payment infrastructure as the primary catalyst for his prediction. But, as centralised payment solutions continue to withdraw from Russia, are they merely highlighting their weaknesses in doing so?
Russian banks are rushing to switch to a Chinese card system, UnionPay, in the wake of the removal of Visa and Mastercard. However, it is unknown how this will affect the general population of Russia, whose credit and debit cards were running on either the Mastercard or Visa networks.
In January, Mastercard announced a partnership with Coinbase to allow purchases of NFTs with Mastercards. Their move towards accepting Web3 has been prolonged, but world events may play a role in challenging the speed of adoption from traditional financial institutions.
CryptoSlate Newsletter
Featuring a summary of the most important daily stories in the world of crypto, DeFi, NFTs and more.
Get an Edge on the Crypto Market 👇
Become a member of CryptoSlate Edge and access our exclusive Discord community, more exclusive content and analysis.
On-chain analysis
Price snapshots
More context
Join now for $19/month Explore all benefits

[ad_2]

Source