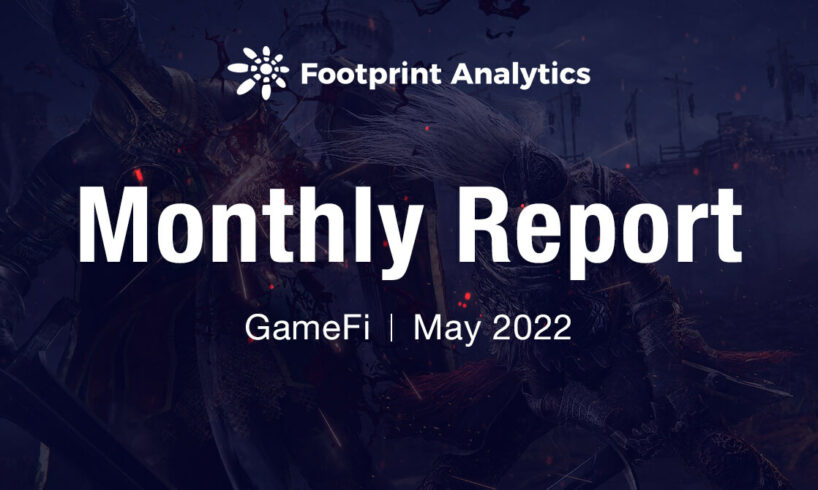 👋 Want to work with us? CryptoSlate is hiring for a handful of positions!
There were many ups and downs in May for the GameFi sector and cryptocurrency investors. Especially in terms of GameFi financing funds, it fell from a peak of $2.4 billion to $165 million, a drop of 93.14%. This is the most significant drop since 2021, which is lower than everyone's expectations for the GameFi market.
The former leader Axie Infinity has also been hit hard. The number of players has been reduced from more than 100,000 to less than 10,000. Is there a risk of collapse? And StepN, which broke out during the bear market in May, crashed just as quickly. Can it see a reversal and continue leading M2E in the GameFi sector?
The following is an overview of the overall GameFi market in May and an overview of the changes in each project through data analysis. 
GameFi Market Overview
GameFi project count up 1.9% MoM, showing a slowdown
After BTC, ETH, LUNA, and StepN tanked, there seems to be a consensus that a bear market is really here. 
Regarding the number of GameFi projects, there was only a 1.9% increase in May, mainly due to the growth of projects on the Polygon chain. The growth of the two main chain projects, Ethereum and BSC, has gradually slowed down.
Footprint Analytics – Number of GameFi Protocols by Chains
Ethereum's high gas fees and network congestion issues persist, which are major factors in its failure to rapidly grow the number of projects. After notable game projects like StarSharks and Cryptomines failed to retain users, BSC also saw some problems.
On the flip side, Polygon is the blockchain with the most growth in the number of projects this month.
GameFi's total active users and transaction volume continue to decline
As of May 31, the total number of active users was 19.83 million, including 830,000 new users and 19 million old users. Total active users fell 13.4% compared to April.
Footprint Analytics – Monthly Gamers Trend
It is mainly affected by the number of users of some game projects on the BSC chain. Both old and new users dropped by 5% to 10%. For example, StarSharks was favored by many industry insiders before April, but it encountered a "death spiral" in just over a month, and the number of users dropped from 10,000 to 100.
Footprint Analytics – GameFi Unique Users by ChainFootprint Analytics – GameFi New Users by ChainFootprint Analytics – StarSharks User Trend
According to Footprint Analytics data, the overall daily trading volume in May decreased compared to April. Including top GameFi projects, such as Axie Infinity's average transaction value fell from $26.85 million in April to $7.14 million. Splinterlands' average transaction value fell from April $4,118 to $2,724. CryptoMines's transaction volume almost halved.
Footprint Analytics – GameFi of Volume TrendFootprint Analytics -Top 5 Games Trading Volume Trend
GameFi raised nearly $165 million, down 93.14% MoM
Investments across the blockchain sector totaled $1.43 billion in May. The GameFi sector accounted for 11.5% of the total investment, with $165 million. Compared to April, the GameFi investment amount declined by 93.14%.
Footprint Analytics – Funding-Monthly Investment Trend
Web3 has seen the biggest drop in GameFi investment, but that doesn't mean Web3 has lost its dominant position. According to news, on May 18, a16z launched a $600 million fund dedicated to gaming startups to increase bets on Web3 technology. So Web3 remains an essential sector of institutional focus, and it will be one of the core technologies of GameFi.
Footprint Analytics – Gaming Financing Distribution
Taking stock of the changes to GameFi in May
At present, the crypto market is experiencing a severe downturn, with the prices of most cryptocurrencies and algorithmic stablecoins falling to their lowest levels ever.
Is Axie Infinity in crisis?
After Axie Infinity was attacked, it continued to show a downward trend, and the sharp decline in its SLP and AXS was severe.
According to Footprint Analytics data, Axie Infinity's token SLP fell to $0.0057 as of May 31, down 98.5% from its previous all-time high of $0.37. The governance token AXS also fell to $23.79, down 84.9% from its last all-time high of $157.80.
Footprint Analytics – SLP Price & AXS Price
Axie Infinity's economic activity relies heavily on the battle and breeding functions, earning SLP and AXS through pet battles and consuming SLP and AXS through pet breeding. Therefore, these two tokens are critical to the game. Once they go to zero, Axies become worthless.
In order to avoid falling into a death spiral due to the falling price of tokens, the team has removed SLP mining from single-player adventure mode, launching the Origin Android version on May 12, and even announcing that it will allow the use of Buy Axie and other assets, etc. in Axie Infinity Market with any cryptocurrency. However, these measures did not stop its price from falling.
It's too early to say whether Axie Infinity will collapse.
Another fast-rising game, StarSharks, also faced a drop in coin prices. SSS fell from a peak of $14.91 to $2.26.
Footprint Analytics – Token SSS Price
To sum up, for many P2E GameFi projects, the early stage is not only as simple as allowing players to earn profits but also the importance of maintaining long-term value gains for players. It is necessary to continuously introduce new players to invest new funds in the game, optimize tokenomics, and give higher security to reduce the possibility of the project falling into an economic recession.
Can StepN stabilize its currency and avoid falling to zero?
StepN is solely responsible for the rapid rise of Move-to-Earn and has launched on Solana and BSC. It's one of the first successful mobile blockchain games.
On May 25, StepN's GMT and GST coin prices continued to fall. The GST coin price on the BSC chain declined from $27.26 to $2.58, a drop of 90.53% in just seven days, due to the selling pressure on SOL, GST, and GMT and the official announcement of a block of mainland Chinese users. Token GMT coin prices dropped slightly.
Footprint Analytics – StepN Token Price
Summary
Despite the continued slide for many leading GameFi projects, new funding rounds persist.
Current events will make it clear whether a death spiral means the death of projects or could be seen as a stress test, allowing the project to recover even stronger.
May Events Review
NFT & GameFi
NFT minted on Cardano exceeds 5 millionGoogle Trend Data for 'NFT' Shows Global Interest Slashed by 70%X2Y2 launched an automatic reinvestment tool, which can automatically purchase the WETH income obtained by users as X2Y2 tokens for re-pledgeNFT market enthusiasm declined, and gas fees fell to the lowest level since JuneSTEPN removes GPS in China amid regulatory concerns 
Metaverse & Web3
Web3 gaming platform Village Studio completes €2.1 million pre-seed financing, led by Animoca BrandsMetaverse Real Estate Sells for a Record $5 Million Inside TCG WorldFootprint Analytics Grows Funding to $4.15 Million in Seed Plus RoundBrave Browser now Integrates with Solana Blockchain to Expand Web3 AccessMetaverse app BUD completes $36.8 million Series B financing, led by Sequoia Capital India
DeFi & Tokens
DAI Takes the Reigns as the Leading Decentralized Stablecoin by Market CapitalizationAn Anchor protocol breach led to a loss of $800,000 following the launch of the Terra chainETH profitability hits a 22-month low of 57.31%The concentration area of lending and clearing on the Ethereum chain is $1459 and $1193Bitcoin dominance increases to 45%, the highest level since October 2021
Network & Infrastructure
Ethereum L2 has been down 40% since early AprilEthereum has more than 81 million non-zero addresses, a record highTerra gets a second life as a new blockchain goes live with LUNA 2.0 airdropLUNA founder Do Kwon faces accusations of fraud over Mirror ProtocolAvalanche loses $60M in the UST crash
Institutions
Crypto Giant FTX Ready With Billions of Dollars for AcquisitionsSingapore crypto-focused VC raises $100m for third fundGoogle seeks fresh talent to lead global Web3 teamCrypto exchange Gemini plans to suspend UST and MIR tradingBrazilian crypto exchange Nox Bitcoin compensates UST users with USDT 1:1
Worldwide
South Korean authorities reportedly probe staff behind TerraUkrainian Eurovision Winner Sells NFTs in Support of Ukraine's DefenseKorean financial authorities Plan to Develop Regulatory Regulations Related to StableCoins and DeFiNew Zealand Authorities Investigate Crypto Ponzi SchemeU.S. lawmakers have introduced more than 80 crypto bills this year, a record number
This piece is contributed by Footprint Analytics community.
The Footprint Community is a place where data and crypto enthusiasts worldwide help each other understand and gain insights about Web3, the metaverse, DeFi, GameFi, or any other area of the fledgling world of blockchain. Here you'll find active, diverse voices supporting each other and driving the community forward.
Date & Author: Jun. 2022, Vincy
Data Source: Footprint Analytics – May 2022 Report Dashboard
What is Footprint Analytics?
Footprint Analytics is an all-in-one analysis platform to visualize blockchain data and discover insights. It cleans and integrates on-chain data so users of any experience level can quickly start researching tokens, projects and protocols. With over a thousand dashboard templates plus a drag-and-drop interface, anyone can build their own customized charts in minutes. Uncover blockchain data and invest smarter with Footprint.
Get an Edge on the Crypto Market 👇
Become a member of CryptoSlate Edge and access our exclusive Discord community, more exclusive content and analysis.
On-chain analysis
Price snapshots
More context
Join now for $19/month Explore all benefits



Source